Collège Beau Soleil
COLLEGE BEAU SOLEIL, Route du Village 1, 1884 Villars s/Ollon
Direction : Mr Kevin Foyle - Principal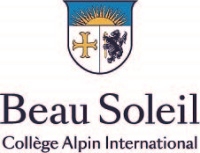 Founded in 1910, Beau Soleil is one of the oldest Swiss establishments of worldwide renown. Having been owned by three successive generation of the same family it is now a member of the Nord Anglia Education group of schools. We provide a well-balanced education to our 225 boarding students, aged 11 to 18 years old, who join us from over 45 different countries. We aim to develop a clear sense of values by offering a balanced and personalised curriculum set within a stable family community and located within an exceptional environment.
As Beau Soleil it is not what you hear, not what you see, but what you do that counts. Inside the classroom, and outside of it.
And when you are focused on doing, things can go wrong. Sometimes you fail. But here, mentally and physically we make sure that there is room to make mistakes and space to put them right.
The consequence is a self- confidence based on achievement, sometimes in unconventional circumstances. And this, more than anything else, allows each pupil to go out into the world with wind in their sails and hope in their hearts.
Beau Soleil is accredited by the Council of International Schools (CIS), the New England Association of Schools and Colleges (NEASC) and has been designated an IB World School by the International Baccalaureate Organisation (IBO). It is a member of Nord Anglia Education, the Swiss Group of International Schools (SGIS), Round Square and Swiss Learning. Beau Soleil is also a member of the "Groupement des Ecoles Suisses qui préparent au Baccalauréat Français" and authorised by the Academy of Grenoble to teach the French Baccalaureate.
Profiles
Mandatory
Summer school
Boarding schools

Ages
6-15 years old
16-18 years old

Range study
Schooling
Languages
Arts

Classes taught in
French
English
Bilingual school

Structure
Boarding school

Diplomas
International Baccalaureat
French Baccalaureat
Brevet des collèges
Other diplomas

Certifications
CIS, NEASC, IBO, FSEP, GESBF, AVDEP, SGIS, "Registre Officiel des Ecoles Privées" and Swiss Learning.
Formation
The French Section (6è-5ème to Terminale level)- College Examinations and French Baccalaureate L, ES and S - The International Section (from Junior School - 6th/7th - to the 12th Grade) - Cambridge IGCSE, IELTS, TOEFL, SAT and International Baccalaureate Diploma - A popular summer camp takes place in the month of July for children from 7 to 16 years old - French or English language course, at six different levels, from beginners to advanced. Maximum ten students per class.