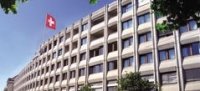 Ihtti School of Hotel Management
IHTTI (SCHOOL OF HOTEL MANAGEMENT), Av. de la Gare 15-17, 2000 Neuchâtel
Direction : Mr. Mark Petrig Dean of IHTTI
IHTTI offers programmes that are designed to reflect the School's mission statement by focusing on its renowned 4 pillars. The programmes are blended in a way to capture the best of traditional Swiss hotel management training with UK university thinking. The programmes develop students intellectual attributes so that they can continue to learn independently throughout their career, management competencies so that they can manage human and non-human resources effectively, operational skills so that they can actually do the work their subordinates do, and overall professionalism so that they have the truly polished mark of a Swiss-trained hotel manager. Due to its strong advisory board, close links with the hospitality industry, regular feedback from the alumni and a strong partnership with UK university, IHTTI academic programmes are regularly revised. Thus IHTTI ensures that the programmes are regularly revised. Thus IHTTI ensures that the programmes remain up-to-date and of the highest standards and that IHTTI graduates will continue to be in high demand after graduation. Many IHTTI students graduate with two well-recognized qualifications: The Swiss Higher Diploma in Hotel Management and the British BA (Hons) Degree in International Hospitality and/or Tourism Management. The BA is awarded by UK university. The usual duration of BA degree programmes in Swiss hotel management schools varies between 5 to 6 academic semesters plus 2 to 3 internships. IHTTI's BA (Hons) Degree programmes are structured in a more intense way. This allows students to complete two well-recognized qualifications in only 4 academic semesters plus 2 internships resulting in considerable cost savings and an earlier start in your career. Year 1 and 2 of the Swiss Higher Diploma programmes include paid internships in Switzerland or abroad. Since its foundation in 1986, IHTTI has maintained a close connection with its alumni. Our worldwide alumni has established an active network helping each other with job opportunities and useful information.
Range study
Scolarité
Commerce

Classes taught in
Anglais

Diplomas
Bachelor
Autres diplômes

Certifications
1 year Certificate Programme
This programme prepares students in two ways: First, it develops the operational skills and overall professionalism of students so that they can work effectively during their training periods and subsequent careers within the industry. Second, it develops the intellectual attributes of students so that they can progress easily to the 2nd year of the diploma programme. These aspects are achieved by focusing on practical subjects, theoretical concepts, professional conduct and behaviour.
2 year Diploma Programme
Building on the 1st year academic and training semesters, this 2nd year programme continues to develop students intellectual attributes and overall professionalism, and starts to develop their management competencies for a future career in management and executive positions. These aspects are achieved by focusing on operational supervision, theoretical concepts, professional conduct and behaviour.
2.5 year Swiss Higher Diploma Programme
The higher diploma from IHTTI can be earned by students who complete two further terms of 9 weeks each. The first of these terms continues to build on years1 and 2 by developing a higher level of academic and business skills in preparation for progression onto the final Higher Diploma term (or progression onto the BA-Hons Degree).
BA (Hons) Degree Programmes
Students who successfully complete the first 45 academic weeks and 2 internships may be eligable to progress to the BA (Hons) Degree programmes which are completed within the third year.
The following BA (Hons) Degree programmes are offered at IHTTI :
- Bachelor of Arts (Hons) International Hospitality Management
- Bachelor of Arts (Hons) International Tourism Management
- Bachelor of Arts (Hons) International Hospitality and Tourism Management

These programmes equip graduates with intellectual and leadership capabilities, which will allow them to move into a range of international managerial positions in prestigious organizations in their chosen sector of the hospitality or tourism industries.

Entry Requirement
To qualify for admission to the 1st year of the programme, candidates must be at least 17.5 years of age and have successfully completed secondary school or equivalent.
All students, whose mother tongue is not English or whose secondary education was not delivered in English, must submit a certificate of a recognised English language test sucha s IELTS 5.0, TOEFL 500 or the IHTTI test minimum 56 points or euivalent score. Students entering the BA Degree Term (Term 6) require IELTS 6.0 or equivalent.
Formation
HTTI offers a variety of Diploma, Higher Diploma, Bachelors Degree programmes.
IHTTI's academic programmes focus on hospitality business administration and management. However, the curriculum covers all relevant aspects of hotel management and includes practical training in operational areas.
English is the official language of instruction for all programmes. Students may also participate in French or German classes.

Years 1 and 2 at IHTTI are subdivided into two parts. Each year consists of a 5 months paid internship in the hospitality industry in Switzerland or abroad.
We frequently invite guest speakers to give lectures on hospitality related topics.
IHTTI uses the latest course books and teaching materials.
Relevant books, periodicals and journals on hospitality and related topics can be found in the school library. IHTTI students also have access to other Swiss university libraries. Classrooms are fully equipped. Students receive private email addresses and unlimited internet access. Small class sizes allow intensive interaction between lecturers and students and ensure a high level of personal attention from the lecturer to the individual.
The internship is an integral part of the academic programme. Years 1 and 2 of the Swiss Higher Diploma programme include a 5 month paid internship in Switzerland or abroad. The internships are arranged and monitored by the IHTTI Internship Office.
Employers in Switzerland are required to pay interns a gross salary per month of CHF 2.075,- to CHF 2.450,-. Deductions for food, taxes, accommodation and insurance are approximately CHF 1.000,-.